Long time readers of the site know my affinity for a semi-yearly event in Toronto known as Shock & Awe: The Dusk Till Dawn Grindhouse Marathon, where film collector Dion Conflict opens up his vault and shares six films (five announced and one mystery film) to a ravenous, sleep deprived, sugar-addled audience. Generally it's a mix of 16 and 35mm prints — most incredibly rare — and culminates in a well known cult item, such as THE TEXAS CHAINSAW MASSACRE, GHOULIES, BRAINDEAD (aka DEAD/ALIVE), or BLOODSPORT.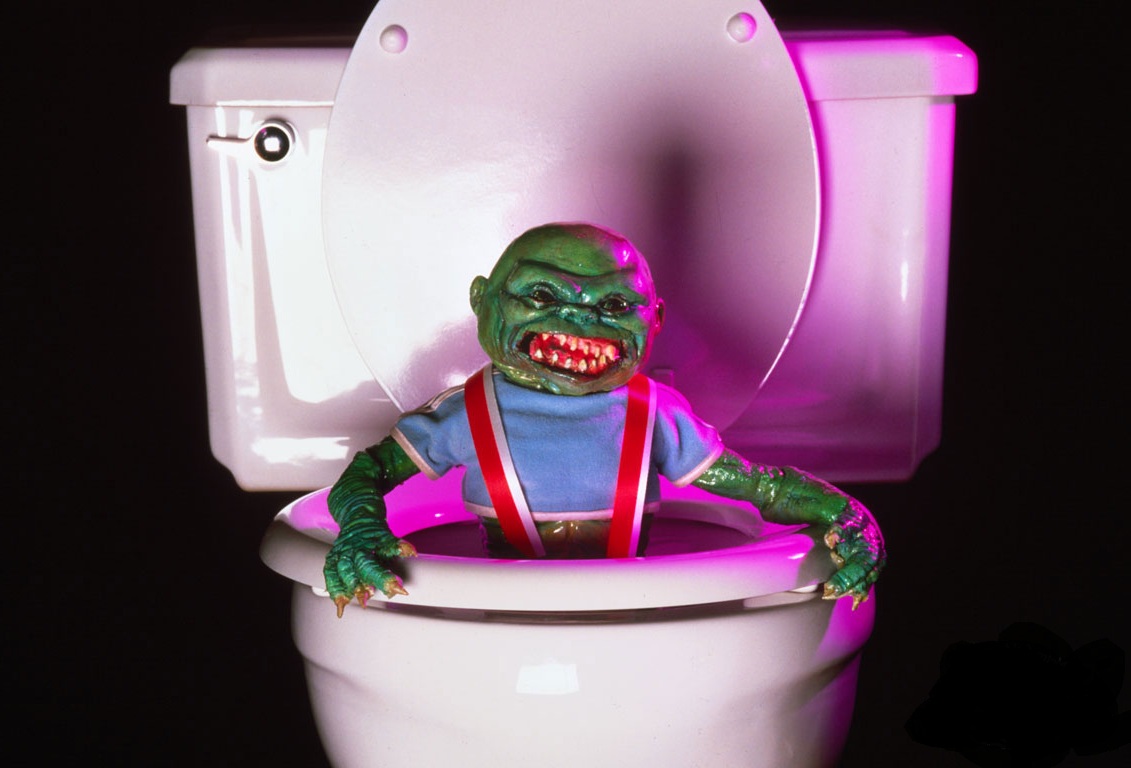 Previous films shown have included THE BOOGEY MAN, THE BLACK SIX, NAUGHTY NEW ORLEANS, TINTORERA, DANISH PASTRIES, DARK STAR, THE BUS IS COMING, NIGHT WARNING, SENSATIONS, HELLS ANGELS ON WHEELS, SCREAMS OF A WINTER NIGHT, THE SWINGIN' PUSSYCATS, MONA: THE VIRGIN NYMPH, THE SHAPE OF THINGS TO COME, SUPERGIRLS DO THE NAVY, SATANIK, BAMBOO GODS & IRON MEN, KINGDOM OF THE SPIDERS, GOIN' COCONUTS, THE STUD, RED SCORPION, THE GROOVE TUBE, WHAT WAITS BELOW, HORROR HOSPITAL, RAPPIN', JOHNNY YUMA, THE NAUGHTY CHEERLEADER, JACK THE RIPPER, and MAC & ME. Whew! Some extremely rare films (and, in the first few iterations, porn) mixing with more well known items.
Fans of Shock & Awe were surprised to discover that the 2015 version (Number 8!) of the event would feature some pretty significant differences. For one, instead of rare film prints being screened the audience would instead be treated to an array of rare VHS tapes(!) culminating in a showing of the horror classic SLEEPAWAY CAMP (of which a beautiful 35mm print was shown at SHOCK & AWE #6 back in 2012). Even more surprising was that the event would be taking place at the Apollo Cinema in Kitchener, Ontario on June 20th, instead of at Toronto location, which led to some initial confused reactions – including from myself. Frankly, I've been the unofficial mascot of the event since its inception, being likely the only participant (aside from Dion himself) to attend every version since 2008, but the further travel distance and a "main event" I'd already seen made me question if it would be worthwhile – particularly as many of the usual participants from Toronto quickly decided they wouldn't be attending.
Thankfully, longtime musical contributor to NO-BUDGET NIGHTMARES, Lucas "Roo" Raymond, offered his assistance (and car), which meant that my streak of sleeplessness would continue. Meeting Roo in Toronto, we made our way to Kitchener and the lovely Apollo Cinema, which ended up being an ideal location for the event. While attendance seemed significantly down from previous Shock & Awes (likely due to some truly poor advertising and a short turnaround on the event), the crowd was enthusiastic for the duration, likely helped by the 9PM (instead of midnight) start time. After the usual introduction (and trademark malfunctioning microphone) from Dion, we settled in for the first film.

DEEP SPACE (1988)
In my short time on this earth I've seen more than my fair share of Fred Olen Ray's catalog, but somehow I managed to skip over this Charles Napier-starring ALIEN-inspired cop film. With Fred's usual mix of sex, violence and surprising supporting performers (this time including ZULU's James Booth, Corman regular Michael Forest and Julie Newmar) it's an incredibly entertaining — and silly — mix of creature feature and buddy cop cliches that has, unfortunately, not been released legitimately on DVD. Sadly, the VHS version is so dark that the final twenty minutes featured a barely visible Napier (and Bo Svenson!) wandering in blackness and battling a near-invisible creature. Still, a lot of fun with moments of really quirky humor (I'll remember Charles Napier seducing Ann Turkel by playing the bagpipes for all eternity) that made for a fine kickoff.

TRAIN STATION PICKUPS (1979)
I'll admit to generally finding sexploitation to be a bit tiresome, so I wasn't initially looking forward to TRAIN STATION PICKUPS (aka Die Schulmadchen Vom Treffpunkt Zoo) since I figured it would be the usual mix of light comedy and softcore T&A. How happy I was to be entirely wrong, as this deliriously entertaining German-lensed "sex report" film features an extremely uneasy mix of goofy pre-PORKY'S style comedy and CHRISTIANE F.-like drugs. violence and prostitution. With some truly iffy scenes of nudity (including an 11-year-old Katja Bienert in the lead!) and some truly twisted morality (it ends with everyone being ok, even the guy turning tricks for heroin who gets accused of murder!), it's an absolute riot.
MYSTERY FILM (19XX)
As per usual, we were sworn to secrecy regarding the identity of the Mystery Film. What I can say (since it was revealed before the event) is that it features Robert Downey Jr., and it might be one of the most laugh-free comedies I've ever seen. Especially disappointing considering I'm a rather massive fan of many of the people involved. Thankfully, it was still bizarre enough to maintain the audience's interest, which is more than I can say for…

PARTY LINE (1988)
Take a dash of Apollo from Battlestar Galactica, add a pinch of washed up teen idol and mix well in a bowl of slasher cliches and a current (for the late 1980s) fad and you have 1988's PARTY LINE, which features Leif Garrett in a wedding dress and not a heck of a lot more. Richard Hatch stars as a hard-boiled cop pushed to the edge when a twisted couple start picking up attached men on a party line and murdering them. Frustrated by an increasing amount of red-tape and a reluctant partnership with the assistant D.A. (and, also, his girlfriend gets murdered), Hatch has to bend the rules (aka put a kid in a TON of danger) in order to track down the murderer. Also features Richard Roundtree for some reason.

TRAXX (1988)
Holy shit. Look, I saw the video box for TRAXX about a million times throughout the 1990s, but just figured it was a generic action film that happened to star voiceover star(?)/DAVE'S WORLD supporting player Shadoe Stevens. I mean.. check out that image.  Unless you're looking closely at the logo or tagline, it doesn't exactly scream "wacky comedy". But it IS a wacky comedy. The wackiest of wacky action movies, that plays like a 90-minute episode of SLEDGEHAMMER except less sophisticated and with way more scatological humor. It may have been the lack of sleep, but I found TRAXX to be deliriously entertaining, and Stevens to be a surprisingly strong lead. Even better is Robert Davi going WAY over the top as the head bad-guy, whose death might be the funniest thing I've seen this year. Seriously.
Wow. TRAXX deserves a quality release so that idiots like me who have passed it by can discover it in all its glory.
SLEEPAWAY CAMP (1983)
And that brought us — at about 7:00am — to our main event. There's something a bit twisted about watching a VHS copy of a film that is not only readily available on Blu-Ray, but also has been previously screened at a Shock & Awe marathon in a great looking 35mm print. SLEEPAWAY CAMP remains a pretty damn delightful horror movie, thanks to a streak of black-humor and a willingness to let kids act like kids (aka like complete pricks), but there's also some troublesome homophobic/transphobic material that marks it as a product of an earlier age. Still, even aside from the dynamite ending – that still packs a punch even when you know it's coming — there's a lot to enjoy here, and I personally enjoy it a lot more than FRIDAY THE 13TH and most of its sequels/imitators.
Despite feeling like a slightly neutered version of the event, Shock & Awe #8 proved to live up to its legacy with a diverse and perfectly programmed array of movies. While forgoing film prints made the event feel slightly less special, it also meant for more flexibility regarding choice, and Dion never disappoints when it comes to picking out the oddest of oddities.
Much love must be shown to the staff of the Apollo Cinema in Kitchener, Ontario, which is not only a lovely independent theater, but also features an extremely accommodating team who worked tirelessly to make sure everyone enjoyed themselves to the fullest. I envy the people who get to visit it regularly. While I do hope that the next Shock & Awe returns to Toronto, if it ends up back in Kitchener I can sincerely say it's worth the trip.